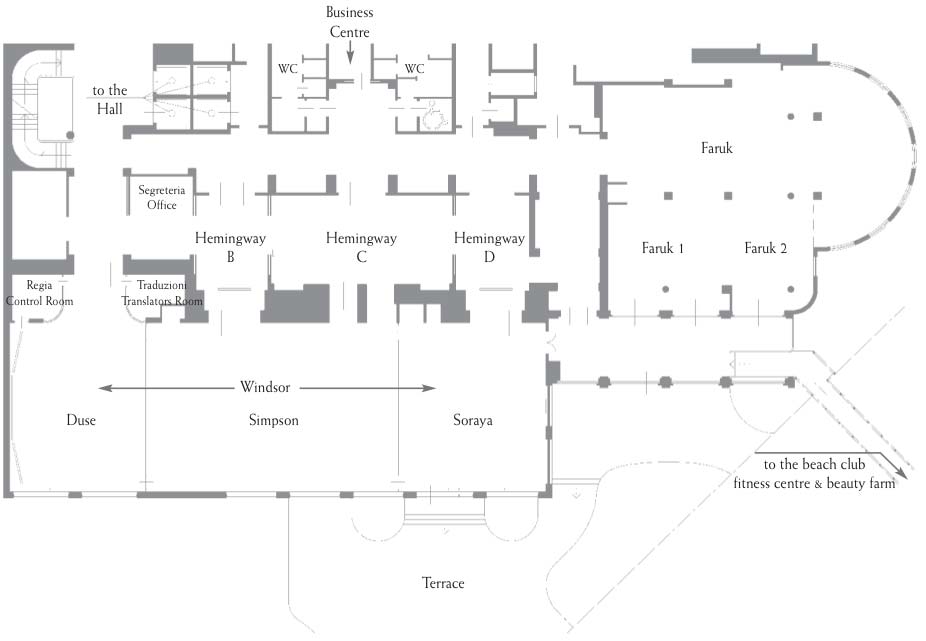 For an important business meeting, a conference or to celebrate a private occasion, the Excelsior Palace Hotel, the only five-star on the Portofino Coast, makes an entire floor available, with a variety of spacious modular rooms to meet the different needs.
Technical equipment, Wi-Fi throughout the hotel, efficient staff and a highly professional food service make for successful meetings of great suggestiveness: the Gulf of Tigullio, Rapallo and its marina on one side and the Bay of Portofino on the other.
Three very large, modular rooms make up the Duke of Windsor Congress Centre, for meetings and conventions for up to 450 people. The largest portion of the Windsor hall is constituted by theSala Simpson, separated from the other two, the Sala Duse and the Sala Soraya. The latter features direct access to the terrace overlooking Portofino and the sea for a well-deserved break from conference proceedings.
The three independent Hemingway Meeting Rooms, adjoining, modular rooms divided by movable walls for a total surface area of 108 m2.
A single large room, the Sala Faruk, with an irregular floor plan, overlooks Rapallo and its harbour Carlo Riva through large windows, a popular destination of the big yachts that moor in the Gulf of Portofino.
Meeting and events in Rapallo, on Portofino Coast
Excelsior Palace Hotel
Via San Michele di Pagana, 8
16035, Rapallo (Portofino Coast)
Italy
For a personalized quotation:
tel. +39 0185 23 06 66
tel. dir. +39 0185 23 07 12
e-mail: [email protected]